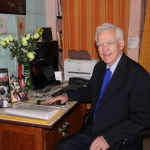 Late Fr. Hank Nunn SJ
"I was sick and you took care of me, I was in prison and you visited me": Mathew 25:36
ASV was founded in 1979 by Fr Hank Nunn SJ, a Canadian Jesuit priest, who made Bangalore his home & dedicated himself through much hard work and diligent effort to provide treatment for the mentally ill.
In November 2013, Fr. Hank Nunn SJ, was awarded by the Times of India as one of the finalists of Mirror's "Bangalore Hero" for his dedicated service towards the care and rehabilitation of the mentally ill.
Fr. Hank Nunn, SJ recently published a book about his life living with and helping the mentally ill called "Opening to Trust".  This book is the story of Rev. Father Hank Nunn, a Canadian Jesuit priest, who moved from the Americas to Africa and then to India, finally settling down in Bengaluru. He is not a psychiatrist or a clinical psychologist, he is not a medical doctor or a trained teacher – yet he has been teaching students from all over the world to live life beyond the severest of challenges. This book can also serve as a manual for those who are care-givers, students of behavioral sciences and many others who may wish to replicate the Athma Shakti Vidyalaya concept anywhere in the world.